Do Hush Puppies Run Big or Small?
Most of us let do our shopping online nowadays. It's way easier to just sit on a couch and browse through hundreds of models. Then, a few clicks later, we check out our purchases and wait for the goodies to arrive.  
Some of the items we buy are susceptible to being of the wrong size or an uncomfortable fit. Clothes and shoes are especially prone to that, but we try to use size guides to get the right ones. 
Hush Puppies are hugely popular shoes, so when we get a new pair of these fun comfy shoes, we wouldn't want to return them back. We'd like to have a good fit from the get-go. And to that end, it's best to know: do Hush Puppies run big or small? 
In this article, we searched every relevant user review. We wanted to find out more about their real experiences in buying Hush Puppies online. And now, we'll gladly share with you this collected wisdom.   
Disclosure: This is a reader-supported site, which means we may earn a commission if you choose to purchase through the affiliate links on this page. Thank you!
Do Hush Puppies Run Big or Small? 
Hush Puppies do not run either big or small. Most Hush Puppies customers report the shoes run true to size, and there's no need to choose bigger or smaller pairs. 
However, a minority of Hush Puppies customers do report the occasional sizing issue, which we explore. They remarked that the fit depended to some extent on the model. So for the same size, some models felt snug, while others felt a tad generous. Overall, among these customers, we did not find any consistent feedback that Hush Puppies run either big or small.
Hush Puppies is the brand that invented casual comfy dress shoes back in 1958. At that time, chick footwear meant torture for feet, to the point that people described their sore toes and ankles as 'barking dogs'. The name of the brand emerged from that characterization to indicate total comfort!
That's why these shoes go by half sizes, which minimizes the need to get a size up or down. Also, many models have optional wide or extra wide variations in size. This also gives users the opportunity the get a perfect fit. 
The final verdict on the matter is that you can shop for Hush Puppies Shoes online and choose the size that matches the attached size guide. You can go for a wide, or extra wide, option if that suits your individual measurements and preferences more.  
The Hush Puppies Size Guide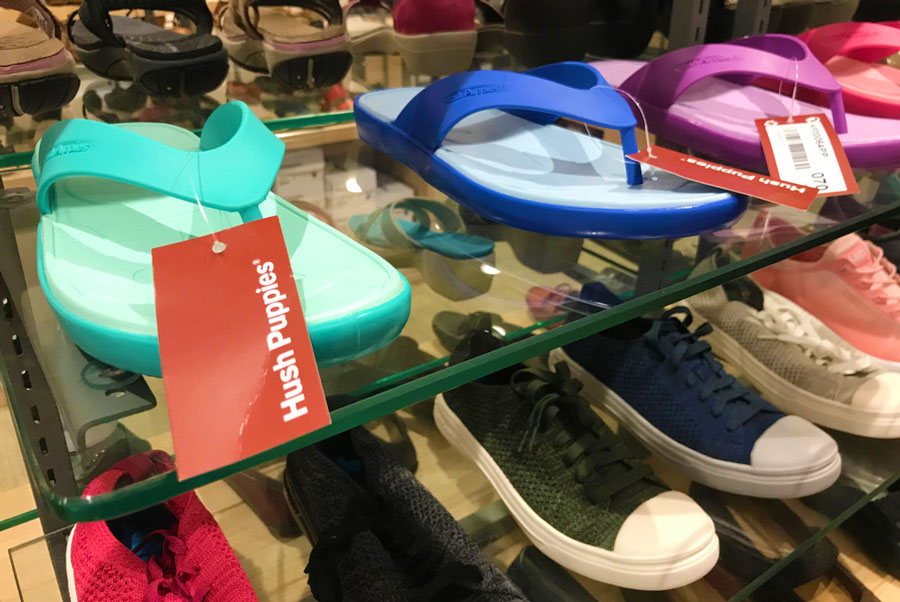 The Hush Puppies size guide is as comprehensive, detailed, and useful as they get. The information is easy to navigate and you can spot your size right away. 
The sizes are given for men and women in two different menus. And in each case, you'll see first the US/Australia sizes, then their matches in the United Kingdom and the European Union conventions. The last column is the foot length in centimeters.  
The women's sizes start from 4.5 all the way to 13. All the sizes increase by halves up to 10.5, however, 11, 12, and 13 are given in full sizes only. This translates to foot sizes from 21 cm to 28.8 cm.
Men's sizes go from 6 to 16 in US measurements. The sizes up to 11.5 come in half sizes, then from 12 to 16, only full sizes are available. This covers foot lengths from 23.7 cm to 32.2 cm.
How to Measure Your Foot Length Correctly for Hush Puppies
Foot length is the main parameter in choosing the right size of Hush Puppies (or any shoe for that matter – whether they be Merrel shoes, Chuck Taylors, or Adidas shoes).
To make sure that the length you're measuring is accurate, Hush Puppies's official site offers the following suggestions:     
Place a sheet of paper flat on the floor, and align one of its sides with a wall. 
If your feet aren't symmetric, then use the larger one in these measurements. 
Step on the paper with your heel at the edge adjacent to the wall. 
Mark the point next to your longest toe and draw a line. Not all people have the big toe as the longest one, so that should be taken into consideration.  
Draw a straight line from the heel at the edge of the paper to the line marking the longest toe. Make sure the two lines are perpendicular without any diversion. 
Measure the heel to toe line length in centimeters.
Check the size guide to get your correct fit.  
Are Hush Puppy Shoes True to Size?
Having measured your foot length and located the corresponding size on the Hush Puppies sizing chart, you're now ready to order your new shoes. Then again, you might be wondering, are Hush Puppy shoes true to size? Or should you go a little bit up or a tad down? 
Based on our review of over one hundred Hush Puppies customer reviews: 
80% of the users said that Hush Puppy Shoes are true to size
88% said that the shoes were true to width 
59% praised the arch support emphatically 
94% gave the shoes a 4 or 5-star rating
These percentages convey a dependable opinion that Hush Puppy shoes are true to size and width. The remaining reviews didn't agree on whether the shoes needed to run a size up or down. 
The discrepancies indicated that different models might need to go half a size up or down depending on intended usage and individual usage. To see how that plays out, we decided to check out a few popular samples from the men and women lines. 
Sizing Issues Regarding Some Popular Hush Puppy Shoes
There are dozens of Hush Puppy shoe models that people love and buy all the time. Here are some that rank pretty high and can be easily considered absolute favorites. The sizing for each model should be indicative of how true to size these shoes are. 
The sizes of these boots go from 5 to 12, with the options of half sizes and wide variations. The sizes from 10 to 12 are full sizes, and the wide option isn't included for size 12.
From 639 reviews from buyers all around the world, 80% gave these boots a 4-star and up rating. Most of the reviews came positive regarding comfort, style, and leather softness. 
Few reviewers mentioned that the sizes were too large, even though they didn't go for bigger ones. One review mentioned that the boots were too narrow. A young lady warned that the shoes stretched slightly after some walking, but that didn't seem to bother her at all as used a liner. 
Other than that, the users were raving about their new boots, and many of them said that they'd order new pairs with different colors.  
These hugely popular shoes are sized from 5 to 10 in half sizes, regular, narrow, wide, and extra-wide varieties. In addition, there are sizes 11, 11 wide, and 12. People can't go wrong with that many options! 
Among 1115 reviews, 78% gave a 4 or 5-star rating. Mostly, the users say that the shoes are true to size, with a few claiming that they run a little big. 
These shoes adorned men's feet for ages, and there's a good reason for that. They're unbelievably comfy and good-looking. They also come in multiple colors, half sizes, regular width, wide, and extra-wide variations. 
With over 2000 reviews, 86% of the users ranking it above 4 stars, the Men's Gil shoes rock! The true to size and width comments are pretty frequent, and negative comments often had to do with material rather than the wrong fit.  
The Atune Oxfords are almost as popular as the Gils. They're a bit more formal, and their shades of browns and black reflect that perfectly. They're also quite comfortable, the way a pair of Hush Puppies is meant to be. 
Now for the fit! These shoes come in half sizes, regular fit, wide fit, and extra-wide fit. 89% of 991 users found these shoes worthy of a 4 or 5-star rating. Most of the reviewers found this model true to size and indicated width as well. 
A nice white-collar man was quite happy with these shoes, but he mentioned that they felt a bit hard at the beginning. A few weeks later, they felt comfy and easy on his feet. This break-in period wasn't mentioned elsewhere though.  
Do Hush Puppy Shoes Stretch With Usage?
Hush Puppy shoes are made from really fine materials, and the leather they use is incredibly soft. The shoes rarely need a break-in period, but they do stretch a little after a few days.  
The users who ordered their actual sizes usually don't mind the little breather space. It becomes a bit of an issue though if a user went a size up, or the shoe is initially generously sized.  
***
Hush Puppy shoes were created for comfort, fun, and elegance. They've been global favorites for the past 70 years because of their attention to their clients' needs. This, of course, starts with being true to size and providing many width variations for the users to choose from. 
📚 Read Next:
Cover Image: Air Elegant / Shutterstock