Do Rockport Shoes Run Big or Small?
Rockport shoes are some of the most meticulously designed shoes out there. They're intended to provide the best in terms of comfort and style. You can wear a pair of Rockport shoes to many types of professional and casual events.
Because Rockport shoes aren't exactly cheap, buying a pair requires some serious consideration. One question most people ask before they commit to buying a pair of Rockports is, "Do Rockport shoes run big or small?"
In this post, we take a closer look at how Rockport shoes fit. We also offer some sizing tips as well as shed light on what makes Rockport shoes notably comfortable.
Disclosure: This is a reader-supported site, which means we may earn a commission if you choose to purchase through the affiliate links on this page. Thank you!
Do Rockport Shoes Run Big or Small?
Rockport shoes generally do not run big or small. They are designed to fit true to size. However, sometimes the shoe style and width may cause it to run slightly big. Pointed models with a narrow toe box may run larger than Rockport shoes of the same size but different toe boxes
Do Rockport Shoes Fit True to Size?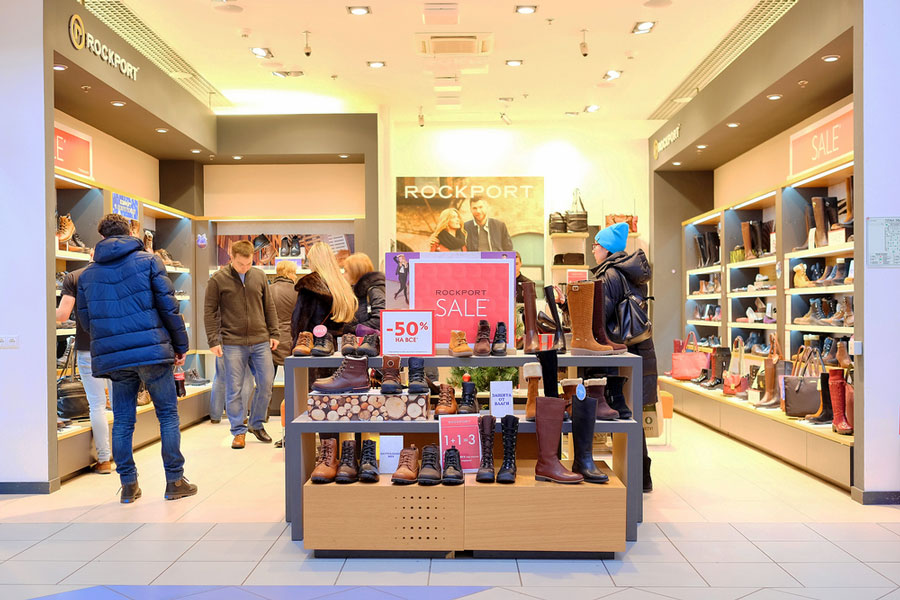 To enjoy any pair of shoes, you need to buy ones that fit you perfectly. With the ample comfort and versatility that Rockport shoes promise, you want to buy a pair your size.
Fortunately, you can stick with your normal shoe size for this one. Almost all Rockport shoes fit true to size. In fact, upon reviewing multiple customer feedback reviews on different Rockport shoes, there are hardly any complaints about needing a bigger or smaller size.
Aside from that, there are some Rockport shoes that may feel a little narrow or wide. This depends on the shoes' width. Rockport is one of the few—if not the only—brands that offer a width size chart for their shoes.
It's worth noting that, unlike the shoes, Rockport boots may run a bit bigger.
Rockport Shoes Sizing Tips
Here are some tips to consider when buying a pair of Rockport shoes:
Rockport shoes are made to fit right out of the box. While their structure is strong, they're soft enough that they wouldn't need to be broken in.
The size chart of Rockport shoes includes half sizes. For many of us, sizing issues can include wearing half sizes. Luckily, Rockport shoes won't make us round to a whole size or anything like that.
Rockport offers a wide variety of widths, from extra-narrow to extra-extra-wide. The availability of these sizes mainly depends on the style of the shoes. For example, Aravon shoes are available in all widths. The Cobb Hill shoe, on the other hand, only has narrow, medium, and wide sizes.
Since Rockports tend to run true to size, if you own another brand of shoe that generally runs true to size – like Adidas, New Balance, or Hush Puppies – then you can use the shortcut of just ordering that same size for Rockports. Just make sure you're not using a baseline comparison to a shoe that tends to run too large, like UGGs.
Are Rockport Shoes Comfortable?
Rockport shoes aren't popular just for their versatility. Comfort plays a huge role in their design. Rockport shoes incorporate the latest innovative technology in their Total Motion, truTECH, and truFLEX lines.
First, let's take a look at the features that these three lines have in common.
Materials
Every bit of Rockport shoes is made from materials that offer your feet ultimate comfort. The footbed is leather-lined, which is breathable and soft. The insoles are made from ultra-soft memory foam cushioning that conforms to your foot shape.
The form-fitting materials are designed to make Rockport shoes fit like a glove. Using engineered fabrics and textiles, Rockport shoes are made to be so soft that they don't require any breaking in.
What's more, Rockport shoes are made from moisture-wicking materials and antimicrobial linings. These qualities allow your feet to keep cool throughout the day.
Structure
Every bit of Rockport shoes is engineered to flex the way your feet do. The outsoles, especially, show the careful attention to detail the folks at Rockport put into making a shoe.
The non-slip outsoles provide traction and durability to the shoe. This allows it to support your natural walking motion and prevent you from slipping on most surfaces.
Total Motion Technology
Rockport shoes in this line include truTECH and truTECH+ technology. These technologies respectively offer shock absorption at the heel and rebound at the forefoot.
Total Motion shoes are made from materials that provide stability and flexibility. These include enzyme-treated linings, smooth leathers, soft suedes, and elegant textiles.
truFLEX Technology
trueFLEX technology gives Rockport shoes the ultimate flexibility. The footbed is made from 6mm retention foam that supports the entire foot. It's covered with breathable leather that offers an easy and comfortable fit.
The spine is designed to stabilize the foot and rebound energy when you lift your feet. This pushes the momentum forward, giving you a more energized stride.
To make the truFLEX Rockport shoes more flexible, the outsoles are lightweight and support natural movement.
***
Rockport is a brand that strives on bringing comfort to any event. Its shoes are well-known for their versatility and comfort. In Rockport's own words, the brand was able to "merge the comfort of athletic shoes with the smart, sophisticated look of dress and casual styles."
What makes Rockport shoes even great is that they generally run true to size. When ordering Rockport shoes, you won't need to worry about the size. For the most part, reviews on different Rockport shoes' styles note how perfectly fitting these shoes are.
Still, there are customers who have had sizing issues with their Rockport shoes. While this isn't the standard, some Rockport shoes' styles can run a touch bigger, like some Rockport Oxfords.
📚 Read Next:
Cover Image: JHVEPhoto / Shutterstock