Do Asics Run Small or Big?
Asics is one of the most popular shoe brands on the market. They're known for implementing some of the most advanced technologies when it comes to running shoes and they also have a huge range of models and designs to suit all tastes, but do Asics run small or big?
To answer this question, I've scoured the market and checked thousands of reviews and user experiences regarding the sizing of Asics shoes and compared it to other brands that make similar products. Here's everything you need to know about the brand's sizing and fit.
Disclosure: This is a reader-supported site, which means we may earn a commission if you choose to purchase through the affiliate links on this page. Thank you!
Do Asics Run Small or Big?
Asics shoes generally run big. Women's sizes run about 1/2 a size bigger, while Men's sizes on average run a full size big. Therefore, most Asics customers will want to order a half or full size down, depending on gender.
This means that if you are a man who typically wears shoes that are size 10, you'll need to buy a size 9 Asics to get a similar level of fit and comfort.
Of course, different models of the brand will come at different levels of sizing. For example, some renowned lines, such as the Gel Kayano, Gel Contend, Gel Venture, are considered true to size, with a satisfaction rate of about 81%, 85.7, and 85.5% respectively.
Some models of Asics shoes are relatively more tapered around the end, so they may not be suitable for people with relatively wider feet, despite being a suitable fit for those with the same feet' length but with narrower feet.
For that reason, although Asics mostly run big in men's shoes and true to size to slightly big in women's shoes, it's always important to keep the width and the sizing chart of Asics in mind while buying their shoes.
Will Asics Shoes Stretch with Time?
Deforming and stretching is one of the side effects of continuously using shoes, especially if you're putting the shoes under a lot of stress, such as running. When this happens, the insoles of the shoes will loosen up, which can make the shoes expand up to 1/2 or a whole size larger than when you've just purchased them.
Generally Asics will not stretch out. Asics, like high quality running shoes are designed so that they can withstand this type of immense pressure without deforming or stretching.
So while in some running shoe brands you might need to endure a 1/2 a size smaller shoe for a while until it stretches, you don't need to do that if you're buying Asics running shoes.
Do Asics Shoes Come in Half Sizes?
If one size down is too narrow and one size up is too wide, opting for a half size running shoe is usually a great solution to enjoy a snug fit. 
Asics offers half sizes for their shoes in both male and female shoes.
Men's US sizes start from size 4 and all the way up to size 12 with an increment of 1/2 a size each, for a total of 17 size options.
Women's US sizes start from size 5 1/2  and all the way up to size 12 with an increment of 1/2 a size each, for a total of 14 size options.
Are Asics Shoes Comfortable?
Customers report that Asics shoes are very comfortable.
Asics has been in the market since 1949. The company makes different types of shoes. However, running and walking shoes remain the shoemaker's top selling items because of how well designed and sturdy they can be. 
In addition to the unique designs and sturdy construction, their shoes are also surprisingly smooth and conform to the contour of the feet. 
Moreover, they come in a variety of width options to suit different types of feet as well as feet conditions like flat feet, but more about this later.
Does Asics Have Different Shoe Widths for the Same Size?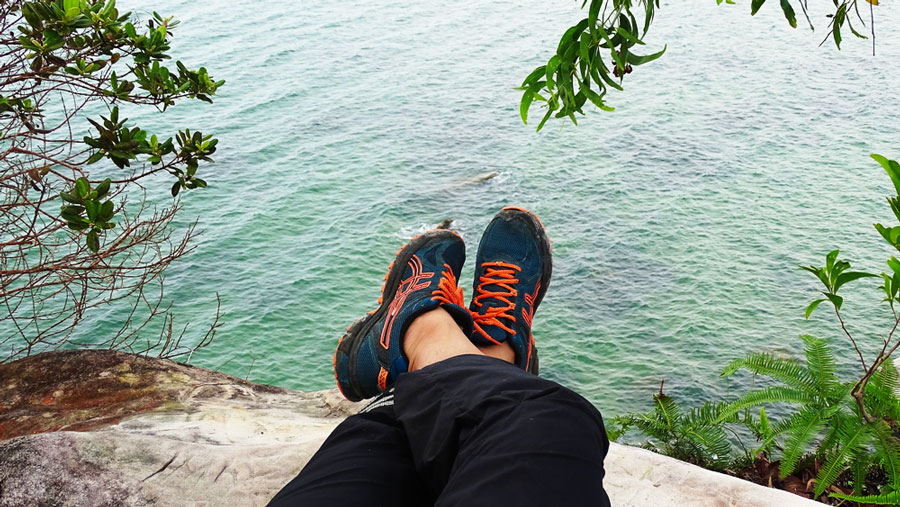 If you constantly suffer from bulging, discomfort, sticking, or difficulty walking and running, while wearing shoes, it's mostly because your shoes are too narrow or too wide for you.
Not only does Asics offer a wide range of size options for most of their products, but they also offer a few width options on both male and female shoes to fit various widths.
These different width options vary up to 10% to 15%, which gives in an extra room inside the shoes which boosts the level of comfort if you have naturally wide feet or suffering from foot-related conditions like bunions. 
Here's a table of the different size options offered by Asics:
| | | |
| --- | --- | --- |
| Width | Women | Men  |
| 2A | Narrow | N/A |
| B | Standard | Narrow  |
| D | Wide | Standard |
| 2E | Extra Wide | Wide |
| 4E | N/A | Extra Wide |
Can You Return Asics Shoes If the Size Doesn't Fit Right?
If you happen to buy shoes from Asics and they turn out to be unfitting or you want to return or exchange them for a different size, you'll be glad to know that Asics offers not only free but also a flexible return policy!
According to the manufacturer, you're able to return the shoes within 90 days from the date of purchase. Also, the shoes must maintain their original condition, so the shoes need to be unwashed and unworn with all the original tags attached to the product.
Additionally, you'll need to state that you've returned the shoe because it doesn't fit right. Keep in mind that the previously mentioned return policy is only for products purchased from Asics stores or through the official website. 
If you've bought the shoes from a different store, online or offline, you're bound to the seller's return policy, which may change for the better or worse.
Fortunately, the most popular retailer – Amazon – offer free returns on many Asics sizes and colors (just be sure to double check the specific return policy before check out):
How to Find the Right Shoe Size for Asics Shoes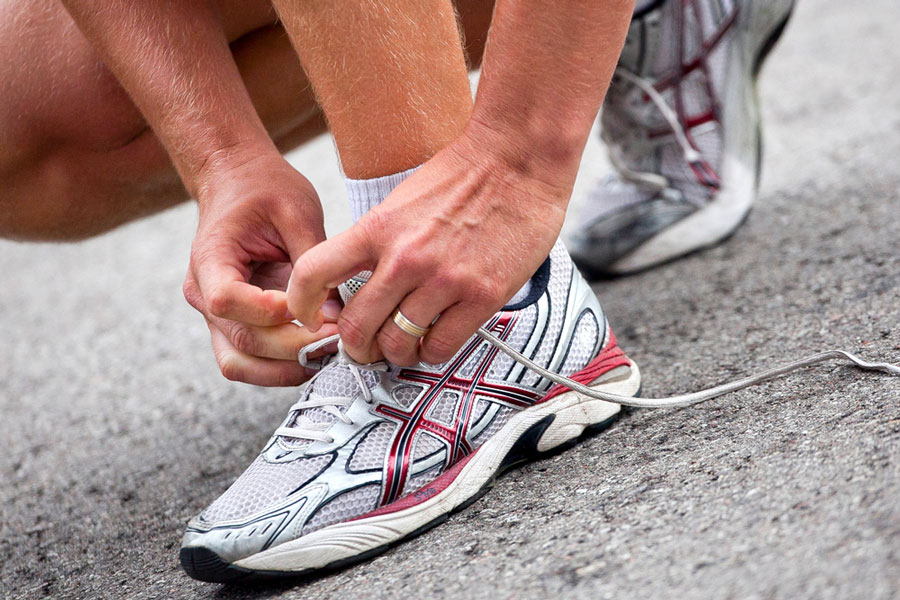 (photo: Karolis Kavolelis / Shutterstock)
Most footwear brands will offer a sizing chart that allows you to find the right size for your feet. However, sizes aren't standardized among manufacturers. In other words, what a company might consider a shoe size 7, another company might consider it 7 1/2 or even 8.
Not only that, but European and American standards for shoe sizing are quite different, so if you're buying an imported shoe, the sizing system on this shoe may not be consistent.
To avoid any of these problems while buying a specific brand, you should measure your shoe size and compare it to the chart provided by the manufacturer.
If you're not sure about the suitable shoe size for Asics shoes, here's a brief method that you can use to figure out the ideal shoe for you:
Start by grabbing a clear sheet of paper and a marker. Draw a horizontal line using a ruler across the center of the paper. Make sure that the line is longer than each one of your feet individually.
Place the paper on any suitable surface, such as the floor, and step over the straight line with one of your feet so that it is exactly over the line but you can still see the rest of the line above and below. To avoid any miscalculations while measuring, make sure that the surface is plain and smooth.
Using the marker, draw a horizontal line exactly at the point where your longest toe sits and again at the bottom of your heel.
Record the distance between the two lines. Make sure to measure the distance accurately and round it to the first decimal. Make sure that you repeat the previous steps for the other foot.
You can also measure the distance of the widest horizontal point of your foot to determine the width of your feet, but this is purely optional because not many manufacturers take it into account.
Use the larger of the two feet as a reference and compare your measurements to the conversion chart provided by Asics. The company makes separate charts for men, women, and kids, so you'll have to specify the type of chart you want.
Final Thoughts
This wraps it up for today's guide about Asics sizing and whether it runs big or small. 
As you can see, Asics is one of the shoe brands that typically run a little bigger when it comes to male running shoes but the female shoes are fairly true to size or about 1/2 a size bigger.
📚 Read Next:
Cover Image: sozon / Shutterstock