Do Skechers Run Big or Small?
In 2020, Skechers sold 163 million pairs of shoes to a global market. This is for a net worth of around $4 billion. Clearly, these figures reflect the huge popularity of Sketchers among users.  
Part of that success comes from the appealing designs of Skechers shoes. But there's another substantial factor that attracts people from all walks of life to this brand. And that factor is comfort. 
Skechers shoes generally feel light and easy on the foot. But are they true to size? If you were wondering, do Skechers run big or small? Then you should read this article. We answer these questions in full detail. 
Disclosure: This is a reader-supported site, which means we may earn a commission if you choose to purchase through the affiliate links on this page. Thank you!
Do Skechers Run Big or Small?
Based upon our review of online customer feedback, most Skechers models do not run big nor small. Rather Skechers typically run true to size. For most Skechers customers there will be no need to size up or down, but rather you should order your typical shoe size.
Skechers shoes are almost always true to size, with a few exceptions, where half a size above or below would be more suitable to individual needs. 
It's worth mentioning that some users don't take full advantage of the wide and extra-wide variations, maybe not even of the available half-sizes in most models. This often ends up in feeling that the length is correct, but the width is off.  
Ordering Skechers' shoes should typically be true to size. If someone has a flat foot, large toes, or asymmetric feet, then going half a size up might not be optimal. Selecting wide or extra-wide sizes would be better. 
Are Skechers Shoes True to Size?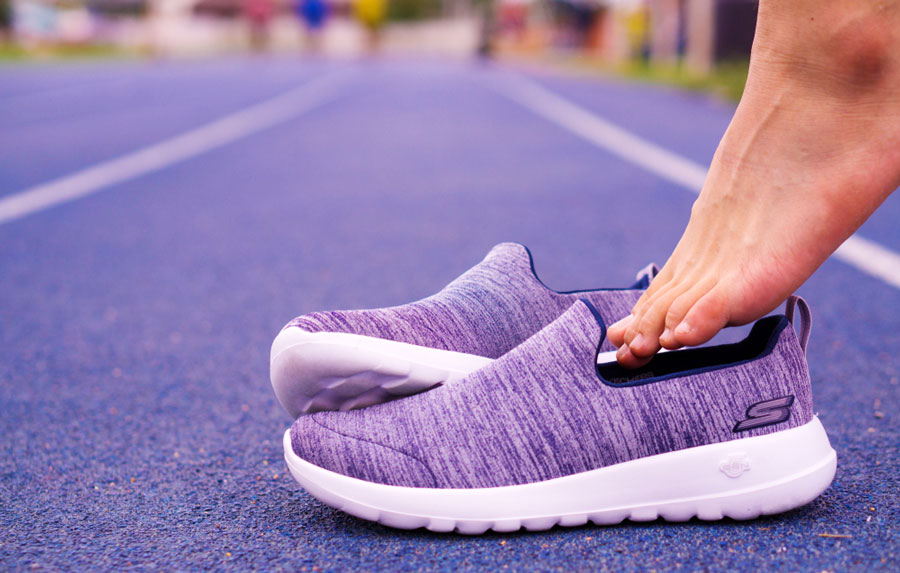 While Sketchers run true to size, Skechers are made for comfort, so some models are naturally wide. This could be around the heels, middle, or toes. Other models are designed to fit snugly around the foot. This could be to enhance a stride or to look good, especially if it's an open sandal. 
There's also the less common case where some Skechers feel narrower than they should. Few users felt that the stretchy flexible material they were expecting to be roomy, was actually rather tight. However, this remains the exception rather than the rule. 
It's best then to take these shoes on a model by-model basis. A quick glance at the user reviews often reveals whether a specific model is true to size or needs some allowances.  
Here are some examples to see how this plays out for different models of Sketchers sneakers: 
This leather and textile everyday shoe is designed to look good and feel good. The sizes go from 7 to 14, with regular sizes, half sizes, and extra-wide variations. 
The shoe has 4,586 ratings, with 92% of the users giving it a 4-star or up rating, and 77% giving a 5-star rating. 
The vast majority of users say that it's true to size and true to width. A few users found it slightly larger than they expected, and even fewer reviewers said that it was a bit too narrow for their liking. The rest of the reviews were testaments about how amazing these shoes are! 
The Milford Loafers have more than 14,600 reviews, with an impressive 91% 4 or 5-star rating. Clearly, this is one of the most popular models. It comes in half sizes, regular sizes, wide fits, and extra-wide variations. 
These loafers are true to size with a little extra room that just adds comfort without feeling loose. You can wear them with or without socks, without feeling that they get too tight with the socks or too roomy without it.   
It should be noted that a few users found the Milfords running a bit smaller. And an equally small number of users felt that it ran slightly bigger than expected. These comments remain fringe opinions though. 
These burly boots are a big hit in the winter wardrobe of many men. The Burgin-Tarlac boots have almost 10,000 reviews. However, the positive chunk of the ratings that exceed the 4-star point is around 75% only. 
Interestingly, the unfavorable votes are also significant here, and we had to know why. Around 11% had little remarks, while 14% seemed to have bigger issues.  
As it turned out, the main concerns had to do with the materials, durability, and general comfort. As these are industrial work boots with a steel toe, there were high expectations among users to find support, flexibility, and sturdiness. Unfortunately, their requirements weren't always met.
This is primarily as sketchers aren't designed for heavy-duty site work. They're more suited to occasional field work, rather than a full time construction job on-site. That's why it wasn't surprising to see hundreds of positive reviews raving about comfort, good fit, and support! 
The range of sizes is another point that users appreciate. The sizes go from 7-regular to 14-wide. There are half sizes and wide fits for all measurements. Going true to size is the best way with these boots.   
Skechers are famous for their Go Walk sneakers. And this particular model reflects the users' fascination big time. There are around 19,200 reviews for these trendy shoes, 89% of them are emphatically positive. 
There's an interesting recurrent comment about these sneakers, which is that a few years ago, they were made true to size. However, in the past two years, they tended to run a size bigger. 
These sneakers are made from a flexible mesh, and they also tend to extend a little with usage. That's why it would be best to order half a size smaller for a snug fit. You'll find the Go-Walks in sizes from 5 to 13, with half sizes, regular fits, and wide fits available for all measurements. 
These canvas slip-ons are available in 27 trendy colors, and they feel like walking on air. That's why no one is surprised to see the huge sales of the Peace and Love Flat models. The ratings of 32,250 users favor these Skechers by 87%, with 75% giving them a perfect 5-star rating. 
Most users found these shoes to be true to size. There were very few accounts of needing half a size up or down, but not enough of them to recommend a change in sizing. 
The sizes of these slip-ons are as varied as the colors, as they go from 5 to 12-wide. There are half sizes, in addition to regular fits and wide fits for all sizes. 
Sport Sandals are a staple in any summer wardrobe, but the ones from Skechers are an absolute must-have. 
The sizes go from 5 to 12. But unlike most Skechers shoes, it doesn't come in half sizes. There are only full sizes with regular and wide variations. The straps would adjust the fit to some extent. Then again, it would be best to know which size to order to get a comfortable fit.  
Plenty of users added their opinions on what they think of these On-The-Go sandals. And from 16,553 ratings, about 90% think quite favorably of it, while 5% seem to have various issues. 
The vast majority of users say that these sandals are true to size. There are the usual odd voices wishing they went up or down a size, but there's no consistent trend there. There were also tons of comments raving about these sandals' comfort and lightness.  
Do Skechers Stretch After Usage?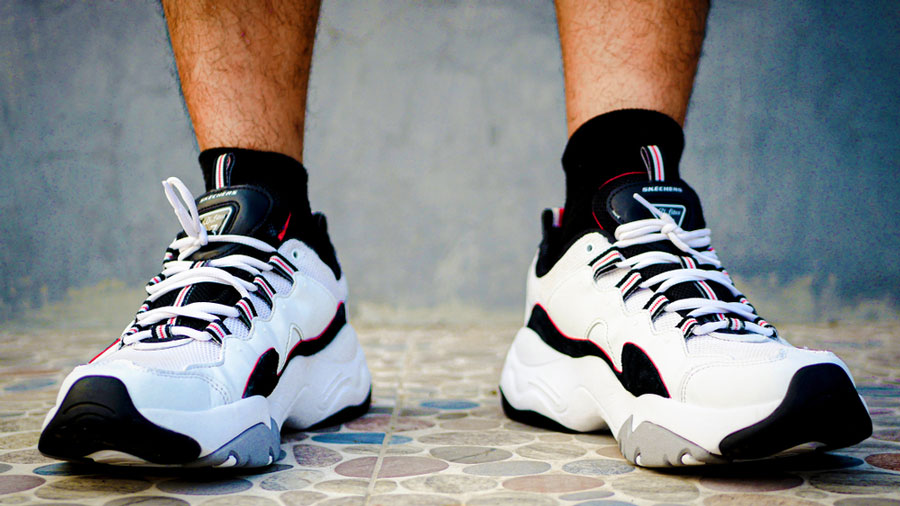 Skechers typically retain their initial sizes for a long time. Some users have inventive tricks to stretch their shoes a little bit more, but that's not the best way to treat your Skechers. 
It's recommended to try and get the right sizing from the get-go. This way, you can make good use of the half sizes and other variations in width. 
Are Skechers Shoes Comfortable to Wear?
Skechers are designed for comfort, and so there are many features in every shoe that maximize that blissful feeling of comfort. To get the most of these well-designed shoes, you should measure your foot accurately, find out your actual size, and order a pair that matches your individual needs.  
If measuring your feet sounds like too much trouble, one shortcut is to simply use an existing type of shoe you own as a baseline. For example, based on our research, Vans runs true to size – as do Timberland boots, Nike shoes, and Adidas shoes. If you own a pair of any of these brands, just check your size and then order that size in Skechers.
Just be careful with this method, as it doesn't work for every brand. UGGs sometimes run a half size too big, for example, so wouldn't be a useful point of comparison if you're trying to order in Sketchers.
Should You Go a Size Up While Ordering a Pair of Skechers?  
Skechers shoes are true to size more often than not. That's why you should try to measure your feet as accurately as possible. The length is the deciding factor, but the width of the feet is just as important. 
What Happens if Your Skechers Are Too Big? 
Ordering a full size or even half a size up could end up in getting loose-fitting shoes. The same happens with an unnecessary choice of a wide fit. 
If returning the shoe isn't feasible, or if you like every other aspect of the shoe, you can still keep it and adjust the fit. 
There are two popular ways to improve the fit of roomy shoes: 
Place a liner inside the shoe
Wear thick socks .. and move a lot! 
These are traditional solutions that the different generations pass along to one another. The reason why they lived for so long is that they work. 
***
There are hundreds of Skechers models on sale, and most of them come in plenty of colors. These shoes are comfortable, supportive, durable, and they're mostly lightweight and stylish. 
Most users swear by the accuracy of the sizes, while a fringe amount complains of their shoes not being true to size. Quite often this dissatisfaction comes with the users taking their feet measurements inaccurately, or not knowing which specific size fits best. 
📚 Read Next:
Cover Image: Bortolomeus Abdi W / Shutterstock